Rodd and Marco
containing the complete CDs
'Jurassic Church'
and
'The Acts Files'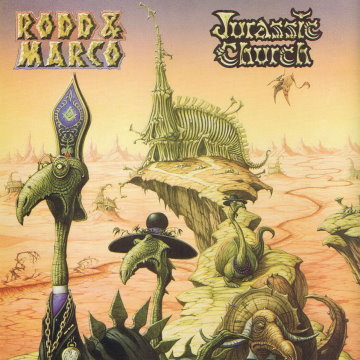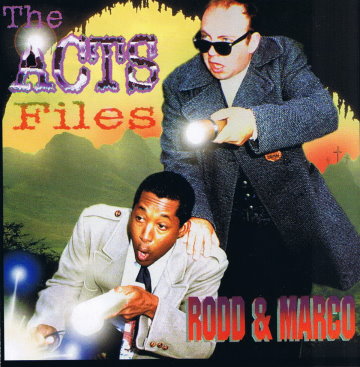 Although sadly disbanded a few years ago, Rodd and Marco's ministry lives on (even though some churches tried to kill them off). With permission from them both, this web page has been put together so that their two albums (and the 'single' 'Men in Christ' - included as a bonus track on 'The Acts Files') can be downloaded, listened to and burned to CD.
Each album is presented in 128mbps mp3 quality and zipped up with the front cover and track listing in an rtf file. Just click on the album cover below and save the zip file to your hard drive.
For those unfamiliar with Rodd and Marco, I've also produced a separate web page of the 'Jurassic Church' track with lyrics as a sampler. It can be accessed here.
Rodd and Marco's work was mainly amongst youth and young adults but so was the double-edged nature of their humour that there were very few age groups who didn't find something to glean from their insights and application of the Gospel to present day culture.
In the CDs, you'll find parodies of 'Enter the Dragon', 'Wayne's World', 'Jurassic Park', a rather tongue-in-cheek response to opposition they received in a certain part of the UK (see if you can guess where) and much, much more...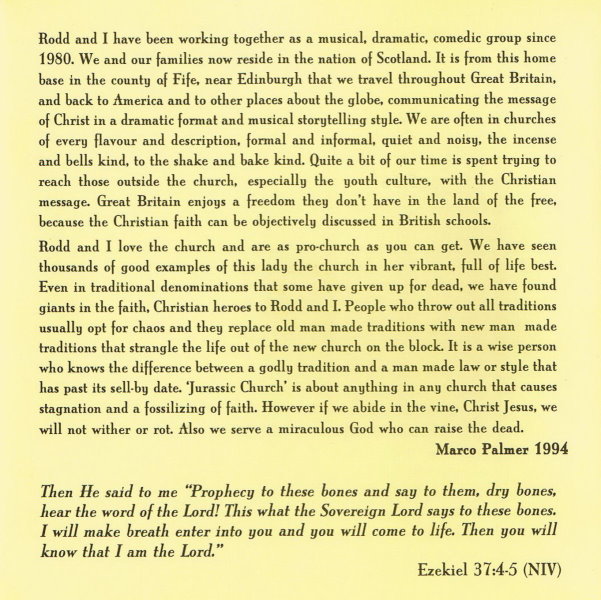 Jurassic Church
(48.2MB)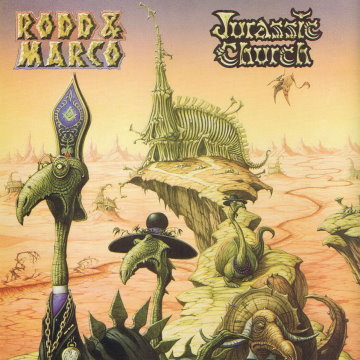 1. Heart Transplant - 4:55
2. The Book That Can Cook - 5:35
3. Radio Hell FM - 2:15
4. The Pied Piper - 5:47
5. God's World - 6:05
6. Mr Exhortater - 3:55
7. A Marconian Chant - 1:14
8. Jurassic Church - 7:00
9. Living Stones - 5:40
10. The Buford & Benny Rock Opera - 4:27
11. The Truth - 5:36
The Acts Files
(53.6MB)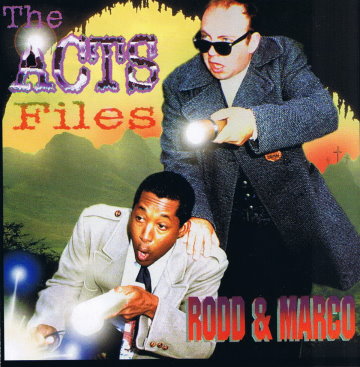 1. The Acts Files - 5:39
2. Boom Shake Shake The Tomb - 3:49
3. Come To The Fiesta - 5:45
4. Hot Sins - 5:20
5. Cow, Pig 'N' Sinner - 4:42
6. The Grand Inquisitor - 3:37
7. Babylon Blues - 5:33
8. Exit The Dragon - 3:59
9. Dr Christian & Mr Flesh - 6:56
10. Why Must This Lamb Die - 4:22
11. Star In The East - 4:35
BONUS - Men In Christ - 4:43